Deborah Flores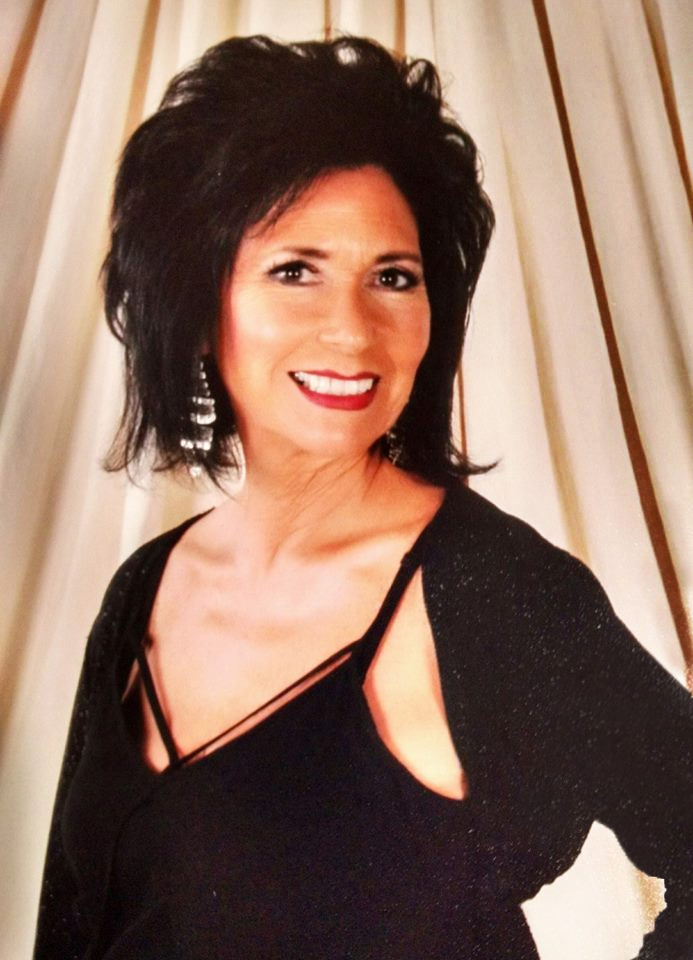 The roots of her grandfather from Spain sprinkled with a touch of French & Apache makes the uniqueness of Deborah Flores. Born in San Francisco, California and growing up in the bay area Deborah flourished in a home surrounded by music. Her father gifted with a beautiful voice, her mother possessed natural rhythm and continued tap-dancing through age 70. Their musical influence on Deborah's older brother's supported their childhood careers as they became stellar performers with the Mason and Kahn Studios in San Francisco performing in many shows throughout the San Francisco bay area. Mr. Kahn, at the time, was Director of the Ice Follies.
When asked about her musical background, Deborah said, "From childhood to teens I heard music from: Ella Fitzgerald, Jackie Wilson, Fats Domino, Patsy Cline, Cleo Laine, James Brown, Aretha Franklin & so many others. I had the opportunity to listen to fabulous music of all types from Jazz, Gospel, Pop, Country, and the Soul music of the 50's and 60's. Listening and studying the genres of music of my past helped me to understand the essence of the types of music I felt an affinity towards. All of them, and R&B music touched my most inner soul. Specifically, the Isley Brothers made a deep impression on me when I saw them perform in New York City Time Square at age 16."
At a very young age, Deborah's natural talent was groomed and looking back, she says, "I had so many wonderful influences including a music teacher in high school who gave me the freedom to explore my musical interests. I was around performers like Buck Owens & some country greats whom I had the privilege of sharing the stage with. Our high school vocal group was somewhat spectacular as we played many events around the San Francisco Bay Area." At age 14, she won a music contest sponsored by the Talented Teen Foundation and sang her way through six European countries; she also accepted an opportunity to be a solo vocalist in a stage show at a large hotel in Acapulco, Mexico.
Her dance, voice & modeling career started in her teens as she toured with the Duane Dancers performing in various stage shows for the military troops and variety shows. Her popularity grew in Northern California with her pop, R&B shows. Her road experience propelled her and her soulful electrifying energy on stage brought much demand in Northern & Central California. She was the featured vocalist in the Miss California Twin Pageant, and in like shows in many San Francisco hotels venues. At one point, she traveled to New York to audition with Warner Brothers which was a hit, as she was offered a recording contract with Warner Brothers but timing was crucial & did not allow her to accept.
Her vocal popularity landed her a contract with the Hilton Corporation and at age 17. Returning to California, she was then sent to Las Vegas to work with the "Fiascos" at the International Hilton and then at the Flamingo Hotel. From there she was hired by Bill Medley of the Righteous Brothers as a background vocalist for his Las Vegas shows. She was surrounded by high-profile performers like Dizzy Gillespie, B.B. King, Glen Campbell, and the king himself, Elvis, to name a few. Back stage was a plethora of mega talent. She ended up living in Las Vegas for 10 years where her agent booked her in Lake Tahoe, Reno, New York, Atlanta, Alabama and many others states. Again returning to Northern California she fronted her own bands "Sweetwater" and "Fahrenheit."
Deborah has been on various musical recording projects throughout the years, including a Jazz album in the 80's produced by Bill Cosby which many performers such as Ray Parker Jr. took part in. She is a part of Burt Brion's recording project and continues to enjoy live performances. Gospel played a major part of Deborah's musical loves including holding the lead in choirs to solo parts in various venues.
Deborah says, "Everything I do in life leads me back to my music. If we all spent time doing what we love we would all be happier people, with the ability to give that love out to others. I can effortlessly speak 'love' through my music. Good music has nothing to do with the style or genre. Good music is the kind of music that hits you in the heart, mind and soul! Singing is more than a talent; it's a reason for being, a spiritual force and guiding passion of my life."
These words demonstrate the way Deborah Flores delivers a song. From a beautiful emotional ballad to a passionate high energy R&B Funk melody, she gives her all to the audience.
A person whole heartedly committed to her music, Deborah looks forward to growing in her craft and continuing to share her talents.